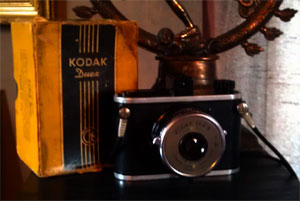 The Duex is a delightful 620 rollfilm bakelite camera manufactured in 1940. I had no great expectations for this camera, but once again, these forays into the dim and distant past of photography throw up constant surprises and this camera takes absolutely charming pictures.
As you can see, I found this camera in a job lot of old camera gear at auction and got it for a song, still in the original box.
I am keen to try this out with some colour film too, so I might run some Fuji pro through it and see how it performs.