Tag Archives:
Colour Film
"Cast Away"
Superheadz / Kodak film
"The yearning to know what cannot be known, to comprehend the incomprehensible, to touch and taste the unapproachable, arises from the image of God in the nature of man. Deep calleth unto deep, and though polluted and landlocked by the mighty disaster theologians call the Fall, the soul senses its origin and longs to return to its source."
– Aiden Wilson Tozer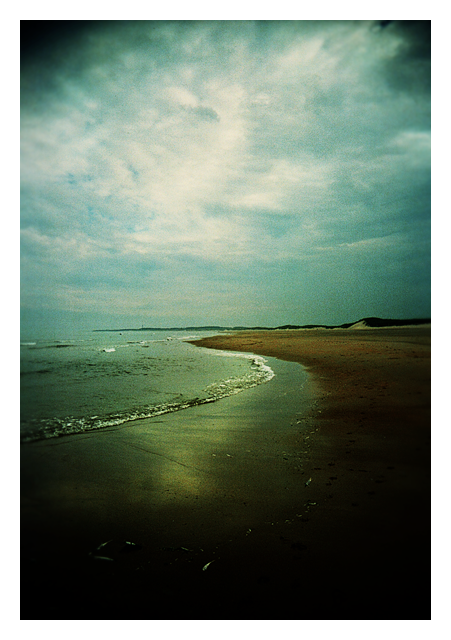 "The Sea, the Shore"
Superheadz / Kodak film
"So we shall let the reader answer this question for himself: who is the happier man, he who has braved the storm of life and lived or he who has stayed securely on shore and merely existed?"
― Hunter S. Thompson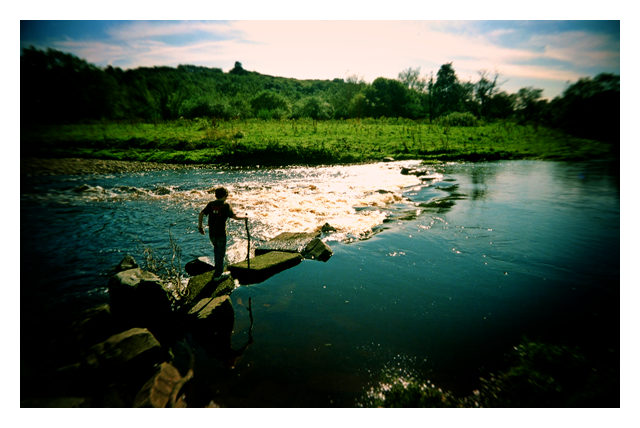 "The River Crossing"
Superheadz / Kodak film
On summer days we all enjoy larking about by the River. Those days seem to go on forever. I recently finished reading a book and this quote stayed with me:
"When we are children we seldom think of the future. This innocence leaves us free to enjoy ourselves as few adults can. The day we fret about the future is the day we leave our childhood behind."
― Patrick Rothfuss, The Name of the Wind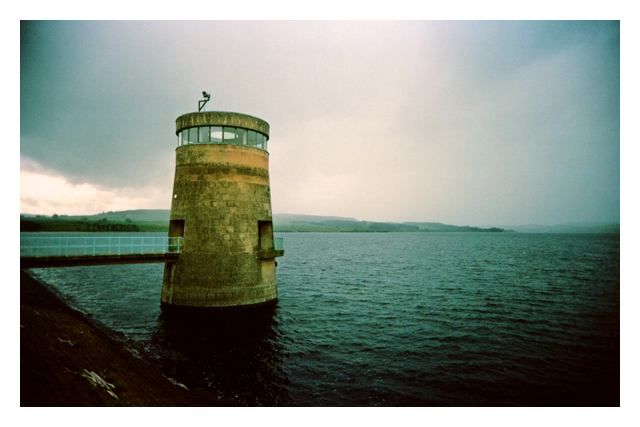 "Sentinel"
Superheadz / Kodak film
It seems to me that to truly be a sentinel, you must be made of stone.
"You might try then, as I did, to find a sky so full of stars it will blind you again. Only no sky can blind you now. Even with all that iridescent magic up there, your eye will no longer linger on the light, it will no longer trace constellations. You'll care only about the darkness and you'll watch it for hours, for days, maybe even for years, trying in vain to believe you're some kind of indispensable, universe-appointed sentinel, as if just by looking you could actually keep it all at bay. It will get so bad you'll be afraid to look away, you'll be afraid to sleep.
Then no matter where you are, in a crowded restaurant or on some desolate street or even in the comforts of your own home, you'll watch yourself dismantle every assurance you ever lived by. You'll stand aside as a great complexity intrudes, tearing apart, piece by piece, all of your carefully conceived denials, whether deliberate or unconscious. And then for better or worse you'll turn, unable to resist, though try to resist you still will, fighting with everything you've got not to face the thing you most dread, what is now, what will be, what has always come before, the creature you truly are, the creature we all are, buried in the nameless black of a name."
― Mark Z. Danielewski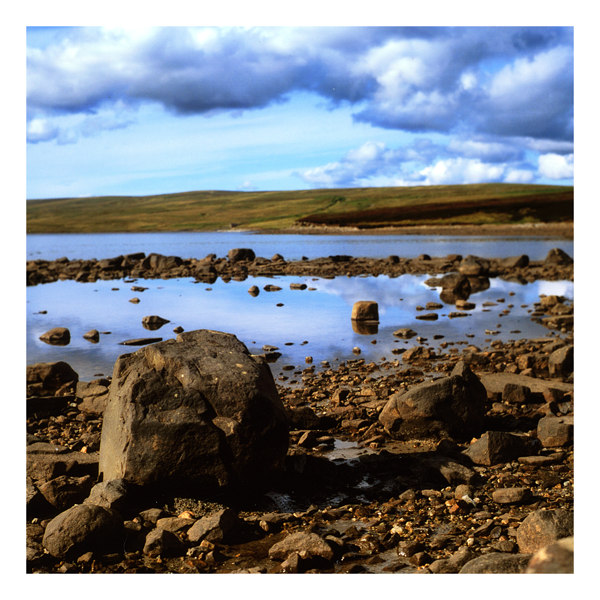 "Cold Day at Cow Green"
Yashica 124G / FUJI RVP100F
This is one of the most amazing places in the UK in my experience. There is a profound silence that only three miles away seems impossible with the roar of the falls at Cauldron Snout. We camped out here a few years back while walking the Pennine Way and it's on the edge of true wilderness. It's an amazing view to wake up to.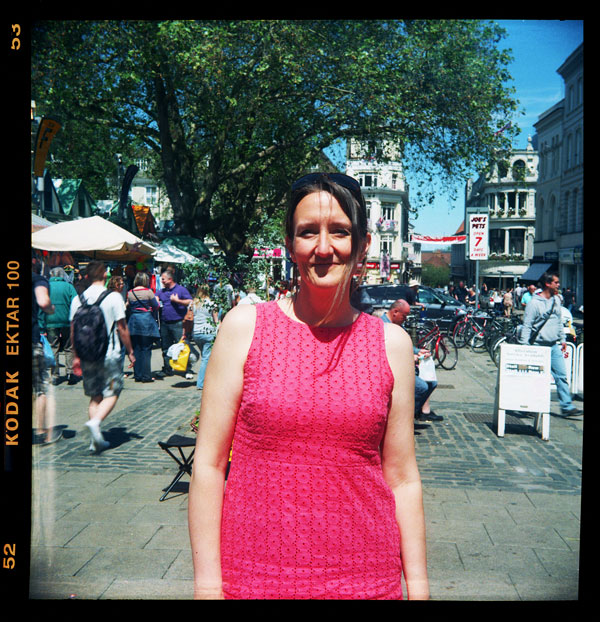 There has been quite a saga accompanying this camera. The Voigtländer Brilliant of 1938 was the world's first focusing TLR, and as a template it has spawned several copies, most notably the Lomo produced Lubitels (of which we have two), but even if the copies are great – for reasons of lomography – they don't quite have the pedigree of the Voigtländer. I realised after trustingly putting a roll of Ilford through it that the focusing mechanism was off kilter, so I resolved to try it again using zone focus and a roll of Ektar.
It has taken a while to get the camera this far. I bought it very cheaply last year and like all of the Brilliants, it hadn't aged especially well. The finder was loose and rusted, the mirror had lost nearly all its silver, the film chamber's painted interior was flaky and the counter wouldn't move. I cut a new mirror and replaced it then set to work drilling out the rusted screws from the finder. I carefully removed the prism finder and put it out of the way: it's a beautiful and precise piece of glasswork after all, then a few moments later heard a crash. I looked up to see that one of the boys had decided to have a look at this rather gleaming jewel, picked it up and promptly dropped it on the floor.
Even though I immediately recognised this as an excellent opportunity to practise mindfulness, I was still devastated. The entire corner of the prism was smashed and at first glance it looked as though the camera was going to have to go for spares.
In the end I cleaned it all up and put it back together anyway and found that because the finder hood covered a good portion of the prism, it was still in fact usable. I wasn't able to fix the focus because the viewing lens was moving freely through its range in tandem with the taking lens, there was nothing to adjust. For some reason, it just doesn't match up anymore. I suspected that this might be because the infinity stop had shifted but I checked the film plane for accuracy and it seemed good. So I loaded up some Ektar and took it to Norwich with me at the weekend.
The reason that focusing Brilliants with good glass are so desirable is not so much the focusing ability of the camera, but the quality of the Skopar lens. It operates at a very decent  ƒ3.5, and is reputed to have excellent characteristics. The vast majority of surviving Brilliants have much less capable lenses than the Skopar.
Upon seeing a few of the results, I have to agree. This camera takes a great deal of patience to use, it is after all 74 years old now, and has taken a few knocks, both old and new, but it is still a classy performer all the same, as you can see.
Even so, I think I shall be selling it. Even without a focusing viewing lens, a partly smashed prism and a non-functional film counter I think I can get a decent price for it because the lens is gold, and as any serious photographer will tell you, the lens is pretty much the whole story, regardless of its innate style. I love plastic lenses, which cost a few pence, but they give a very different style. If you are looking for accuracy, then the Skopar beats many more modern competitors hands-down.
Plus, I recently bought a Yashica from Pakistan and I cannot really justify owning five TLRs!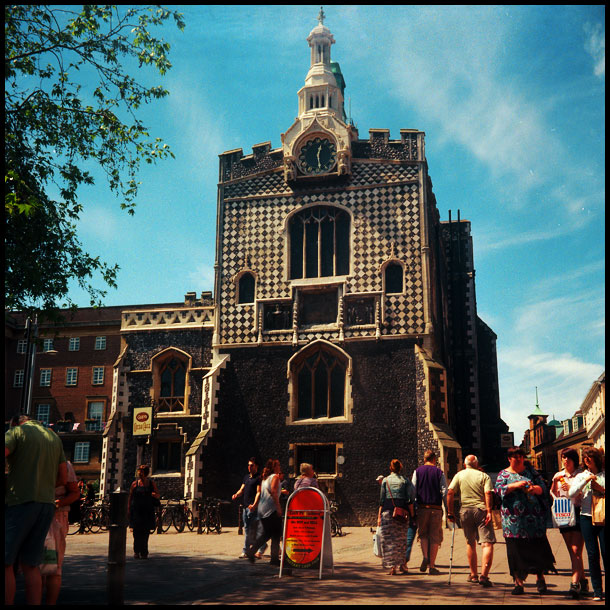 I wrote about the Ensign Ful-Vue before. In short: saw it, loved it, used it, was totally underwhelmed by the results.

Then Jem surprised me with an Ensign Ful-Vue Super; a slimmer, smaller, more streamlined version with a twisting focusing lens and viewfinder cover. Whilst I appreciated its obvious beauty, I'd been seduced and disappointed by its predecessor, so I approached this one with a little more reticence. I filed down a 120 roll of Kodak Ektar to fit, as it takes 620 film, loaded it up and off we went.
The only real problem I encountered is that the take-up spool began slipping before I was halfway through the film. By exposure 10 neither gentle persuasion nor brute force was going to budge it. Since it was loaded with Ektar and we haven't got as far as home-developing colour film yet, we were taking it to the shop for a develop only, and I was tasked with removing it from the camera and putting it in a light-tight case inside a dark-bag at the shop counter. This, I discovered, was a very different experience from the privacy of my own kitchen table! Thankfully, it went without a hitch, and when we examined the camera afterwards, it was quite obvious that the pins that turn the take-up spool have bent upwards and are no longer gripping effectively. Jem assures me this won't take much to fix.

So home we went to scan our films and I was incredibly happy with the results.
This is the portrait I attempted, bright sun outside, in our bedroom window, my eldest son. The tones, colours and sharpness were a real surprise. I should add that I don't believe it has a light-leak, in spite of the fact that this exposure appears to have one. Rather, I believe I left the counter window open in bright sunlight, which has flooded this shot somewhat. Oops! You live and learn, eh?

And here is an example of how well it works in a sun-flooded room:
It also has a lovely quality when photographing buildings:
You can find these and some other shots from the roll here.
This is a typical local scene, at least when the sun is shining.
Mamiya 645 / Kodak Ektar